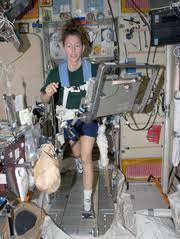 NASA's Space Shuttle program may be ending, but astronauts still face the challenge of spending long periods in space on the International Space Station (ISS) and future planetary missions.
Astronaut Sandy Magnus knows the rigors of working and working out in space. A mission specialist on the final shuttle mission, she also spent more than four months on the ISS. Besides all the science she did on the space station, she had to exercise two hours every day—including being strapped to the treadmill so she wouldn't float out of position.
Working out in space helps keep an astronaut's body from losing critical bone and muscle mass. Learners on Earth can get a workout and explore how astronauts do what they do in howtosmile.org activities such as
and Jump for the Moon.
When NASA met NASSA
That's what happened when NASA accepted a proposal from Neighborhood After School Science Association (NASSA) students in Ava, New York for an experiment to be carried out on the International Space Station. The students designed their experiment, "Flight of Paper Rockets Launched by Air Cannon," to determine the direction and distance traveled by a paper air rocket launched in microgravity.
Want to explore the science of air cannons with learners here on Earth? Check out howtosmile.org activities such as
Air Cannon and Mini Vortex: Build an Air Cannon.
For more information about all the winning student proposals for ISS experiments, visit NASA's Kids in Micro-G project.