PALE:ClassicArticles
From NSDLWiki
Classic Articles in Context ISSN 1948-979X
Return to Primary Articles Learning Environment (PALE) Home

NSDL Classic Articles in Context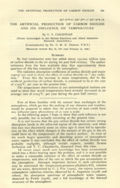 The Classic Articles in Context (CAC) project (2008) of the National Science Digital Library integrated important works of scientific inquiry into dynamic learning spaces for teachers and learners. To achieve the goal of illustrating science as a process that builds on discovery and replication expressed in the archival literature of research, worked with selected publishers to make the full texts of certain "classic" articles available to patrons whether or not they or their institution hold a subscription to the journals in which the articles appeared.
Papers featured in a CAC topical concentration include a narrative essay providing an overview of the investigation suitable for undergraduate science courses. The essays discuss significant aspects of the studies (e.g. novel experimental methods) based on the state of understanding at the time of publication and with respect to the larger published literature of the field (noting, for example, how a given set of findings influenced subsequent work).
Issues
by James R. Fleming. NSDL Classic Articles in Context. Issue 1, April 2008.
by Peter M. Levy NSDL Classic Articles in Context. Issue 2, December 2008.
Suggestions for Incorporating Primary Literature into Lessons
All content within NSDL Classic Articles in Context and the Primary Articles Learning Environment (PALE) domain, wiki.nsdl.org/index.php/PALE, is under the copyright of the National Science Digital Library (NSDL) and is subject to the
NSDL Terms of Use
. This content may not be reproduced, duplicated, copied, sold, resold, or otherwise exploited for any commercial purpose that is not expressly permitted by NSDL. Articles cited herein from the hyperlinks "Article Link" have either been made available by publishers, and are therefore subject to
contributing publishers' terms of use
, or reside within the public domain.