MiddleSchoolPortal/Whats Making You Sick
From NSDLWiki
<keywords content="middle school science ebola pathogens virus infectious disease bacteria plague epidemic personal hygiene standards inquiry lessons" />
<metadescription content="This free, standards-based, online publication, developed for middle school science teachers, explores pathogens and infectious disease by linking to and describing inquiry-based lessons and activities." />
What's Making You Sick? - Introduction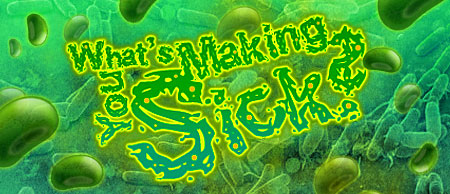 Viruses with such exotic names as Ebola, bird flu, monkeypox, and West Nile have been making the headlines lately. Even those middle-schoolers who don't read the news online or in print have probably heard some of the warnings, predictions, and hype surrounding mention of these viruses. Knowing the facts is important for all of us.
What's Making You Sick? focuses on what science currently knows about viruses and infectious diseases as well as the questions that scientists are studying. Teachers will find valuable background information about viruses, germs, and disease as well as lesson plans that incorporate this material.
Reaching back in time, we will look at sites that discuss the intriguing history of plagues and infectious disease that became rampant killers of millions of people. These sites uncover the role that insects and rodents have played in the history of disease. They also show how man's response to virus and disease has changed through the centuries.
We have selected a number of interactive sites that will engage students in projects designed to help them understand that illness can be caused by many factors, including personal health and hygiene. Students will learn how epidemics can be linked to contaminated air, water, and food, and how we need to find ways to contain the spread of infections that are easily transmitted from host-to-host.
Background Information for Teachers
For help in putting this unit in a context and to see a highly regarded sequence of learning goals see the NSDL Strand Map Service.These maps illustrate connections between concepts and across grade levels. An image of the middle grades (6-8) only part of the Disease map appears below. Clicking on a concept within the maps will show NSDL resources relevant to the concept, as well as information about related AAAS Project 2061 Benchmarks and National Science Education Standards. Move the pink box in the lower right hand corner of the page to see the grades 6-8 learning goals.
We've gathered here web sites that will help you to teach middle school students all about virus, bacteria, and infectious diseases—what they are and how they impact our lives. We've included sites that take a look at the role of diseases, plagues, and epidemics in significant events in world history. With the rise in infectious diseases like AIDS and SARS and the global threat of bioterrorism, all of us need to learn more about the fascinating and sometimes deadly microscopic world around us.
Common Cold This site provides information about how the cold virus invades the human body, what causes cold symptoms, how to prevent a cold, and how complications can occur. Six myths about the common cold are examined. This site should be interesting to almost everyone, but perhaps most of all to those of us who have recently had a cold.
Secret Agents: The Menace of Emerging Infections Secret Agents, a book available online and in print, looks at new and emerging infections that have increased in attack rate or geographic range, or threaten to do so, and tells the stories of scientists racing to catch up with invisible adversaries. Each chapter focuses on a different threat: foodborne pathogens, antibiotic resistance, animal- and insectborne diseases, pandemic influenza, infectious causes of chronic disease, and bioterrorism.
Montana State University-Bozeman: Insects, Disease, and History The site shows the impact of insectborne diseases on world history, including such events as the Napoleonic campaigns, the U.S. Civil War, and World War I. The web site also contains a primer on medical entomology, suggested readings, and a glossary.
Bugs in the News! Each virus-and bacteria-related topic is presented in the catchy format of "What the heck is…?" Basic information is provided on DNA vaccines, antibiotic resistance, allergies, anthrax, E. coli, cloning, flu, genes, genetic engineering, enzymes, chloroplast, mad cow disease, penicillin, receptors, and microbiology. Advanced level articles are provided on genetically engineered adenovirus, AIDS and HIV, and Cryptosporidium.
Nature Web Focus: SARS The journal Nature offers this free site on severe acute respiratory syndrome (SARS). Key questions are answered about the outbreak, and how we can prepare to deal with future viral threats. Teachers will find dozens of articles, including editorials and science updates from the journal. Included is a chronology of the SARS epidemic, what scientists are currently studying, and an excellent overview of what we know and what remains to be learned.
Factors in the Emergence of Infectious Diseases Agricultural development is often a factor in the spread of infectious disease. Cases of a deadly viral infection in China have been traced to field mice who flourish in rice fields. In Argentina, conversion of grassland to maize cultivation favored a rodent that was the natural host for this virus, and human cases increased in proportion with the expansion of maize agriculture. Other examples, in addition to those already known, are likely to appear as new areas are placed under cultivation.
Immune Cells in Action In a teaching module from the video The Secret of Life, "Nothing to Sneeze At: Viruses," watch as a virus attacks a cell, and learn how the immune system reacts to this onslaught.
PBS Online—American Experience: Influenza 1918 This web site provides supplementary information, materials, and resources for Influenza 1918, a film about the worst epidemic in American history. Site users can access both a program description and a transcript for the film as well as a teacher's guide, audio interviews, and a bibliography of related books and web sites. Additionally, this site provides a month-by-month time line and a map depicting geographic and temporal distribution of the flu.
What Happened to the Woolly Mammoth? This radio broadcast explores the theory that the extinctions of the woolly mammoth and other megafauna were caused by an infectious disease. The broadcast discusses the difficulty of proving a virus found within animal remains was lethal, as opposed to one of many harmless viruses. The broadcast is about 29 minutes in length.
Lesson Plans
These lesson plans will help you introduce the study of viruses to your students. Some of these sites also explore the environmental impact of today's technology on the quality of our air, water, and nonrenewable resources.
Many of the lesson plans come from the science educators at Discovery Channel School, The New York Times, and PBS. We think that they have provided excellent background material for their lessons, thought-provoking discussion questions, great ideas for use, and links to additional resources. We've included lessons for small groups of students working together to solve practical situations as well as individual activities for student reports and independent projects. Be sure to continue on to the section Activities Just for Kids, filled with interactive sites designed for middle schoolers to use on their own.
Understanding Virus Written by teachers, this lesson plan is designed to help students develop a basic understanding of what viruses are, their characteristics, and how viruses can mutate and become deadly. Students learn that even genetically engineered viruses developed for their usefulness can be dangerous if they are not closely monitored. Included for teachers are ideas for extensions, links to additional articles, and standards-related information.
The Science of HIV This lesson plan from the Discovery School staff provides an overview of HIV and AIDS. There are several ideas for presenting the material to a class, ideas for extension, discussion questions, links to more information, and a tie-in to science education benchmarks and standards.
Examine the Effects of Disease Across Time In this series of three activities from PBS's Frontline/World, students experience group and individual activities to help them learn about the effects that diseases have on various populations around the world. Students learn that proper health care is integral to keeping many viruses and diseases from spreading, and that prevention and control of disease is an important field in science. Focusing on the SARS epidemic, students examine what has been learned from past epidemics and make recommendations to minimize or prevent future outbreaks.
Introduction to Bacteria This lesson plan teaches students the characteristics of bacteria—how they move, where they live, and how they reproduce. Students will also learn how bacteria can be helpful or harmful and create a design to illustrate what they have learned. Teachers are provided with learning objectives, discussion questions, extensions for alternative uses, and suggested readings. Teachers can link to teaching tools to create worksheets, puzzles, and quizzes.
NewsHour Extra: Addressing Health Mysteries This lesson plan from PBS Teacher Source gives students an in-depth look at the SARS epidemic with a focus on public health administration. An interview with David Heyman of the World Health Organization (WHO) forms the basis of the exercise, with video, audio, and transcript available. A NewsHour Extra story on SARS provides additional material. The site also offers ideas for homework and extension activities, each designed to help students explore and understand the process by which organizations like WHO tackle new disease outbreaks.
Exploring the Environment: Rift Valley Fever In this activity, students study the nature and transmission of the Rift Valley (Kenya) fever virus to determine ways to prevent an outbreak. This is an interdisciplinary problem-based learning module for middle and high school students aimed at addressing real-world problems in environmental Earth science. Teacher pages include module notes, ideas for use, and ideas for planning, facilitating, and assessing information.
Activities Just for Students
When it comes to learning on the web, middle schoolers are attracted to sites that are colorfully designed, highly interactive, and use sound and video in entertaining ways. When these sites are used in combination with interesting topics like viruses, infectious diseases, plagues, and epidemics, you have a winning combination that will make learning an adventure!
Students become the detective in the Global Bug Conspiracy and actually use a flashlight to simulate how it would look to peer around in the dark on the trail of their next clue. In How Lou Got the Flu, they meet a girl with a flu bug that traveled around the globe from China. Students will learn about viruses making recent news headlines at the Why Files sites Topics covered are chronic wasting disease, an infection that has affected the deer and elk population in some states, the West Nile virus, and zoonoses, the spread of viruses from animals to humans.
DDT Quest This WebQuest has students pretend to be an environmental consulting firm and present the case for or against the reintroduction of DDT to fight the (fictitious) South Ramford River Virus (SRRV). Arguments will focus on the possible routes of exposure to DDT for people and wildlife in the county, the risks and effects of exposure to DDT for humans and wildlife, the extent of the potential SRRV problem in Ramford County, and strategies for controlling the mosquito vector.
How Lou Got the Flu Don't know how you caught the flu? In a kid-friendly format, both upper elementary and middle school students can follow the long and winding path of a flu germ to see how quickly and easily germs travel from a duck in China to a girl, named Lou, who lives in Kansas.
Bam! Body and Mind This web site was created by the Centers for Disease Control and Prevention (CDC) for kids and teachers. The site offers a fun, interactive approach to raising kids' awareness of health issues. Click on the Diseases section to find Stalking SARS. Designed with cartoon-like illustrations, this segment focuses on how the disease started, and the CDC's efforts to lessen its threat around the world. Included are an interactive map of where the disease has traveled, a chronology of significant SARS-fighting events, brief introductions to the key people who have been at the head of the battle, and a question-and-answer section on basic SARS facts.
Hidden Killers: Deadly Viruses Scientists believe that although they are beginning to understand how viruses behave, there is still much that needs further study. In this ThinkQuest, students learn about viruses and get a brief overview of some of the viruses commonly mentioned in the news. Included are games and vocabulary terms.
Deer: Wasting Disease Disaster Chronic wasting disease, the brain disease that affects deer and elk, sometimes compared to mad cow disease, has become a problem outside of the states of Colorado and Wyoming where it has been known for decades, raising concern for wildlife in affected areas. This site, which discusses the epidemic and Wisconsin's plans to control it, is a feature from the Why Files.
Bye Bye Birdie: Vilifying a Virus West Nile has spread to 44 states and beyond, and while it can be fatal to humans, it remains primarily a bird disease. This Why Files site offers an in-depth exploration of West Nile in North American birds, tackling the questions "How far? How fast? What's next? Who's next?" The report also explains how researchers conduct bird studies, such as lab and field studies, and anecdotal observations. Visitors may also view a QuickTime interview with Paul Slota of the National Wildlife Health Center.
Zoonotic Diseases Go Global This Why Files feature offers a detailed look at diseases that spread to people from other animals, called zoonotic diseases. These diseases, such as monkeypox and West Nile, make up two-thirds of all infectious diseases and may represent a growing threat. This feature provides an insightful and easy-to-understand discussion of emerging zoonotic diseases, including a short section on the hazards presented by household pets.
SMARTR: Virtual Learning Experiences for Students
Visit our student site SMARTR to find related science-focused virtual learning experiences for your students! The SMARTR learning experiences were designed both for and by middle school aged students. Students from around the country participated in every stage of SMARTR's development and each of the learning experiences includes multimedia content including videos, simulations, games and virtual activities.
Careers
The FunWorks Visit the FunWorks STEM career website to learn more about a variety of science-related careers (click on the Science link at the bottom of the home page).
Latest Science News from the New York Times
News about Parasites, including commentary and archival articles published in The New York Times.
News about Bacteria, including commentary and archival articles published in The New York Times.
National Science Education Standards
Standards
These excerpts from the National Science Education Standards (NSES) relate to the study of science in personal and social perspectives in middle school.
As a result of activities in grades 5-8, all students should develop an understanding of:
Personal health
Populations, resources, and environments
Natural hazards
Risks and benefits
Science and technology in society
Guide to the Content Standard
Fundamental concepts and principles that underlie this standard include:
Personal Health
As a result of activities in grades 5-8, all students should develop understanding of
Natural environments may contain substances (for example, radon and lead) that are harmful to human beings. Maintaining environmental health involves establishing or monitoring quality standards related to use of soil, water, and air.
Populations, Resources, and Environments
As a result of activities in grades 5-8, all students should develop understanding of
When an area becomes overpopulated, the environment will become degraded due to the increased use of resources.
Causes of environmental degradation and resource depletion vary from region to region and from country to country.
Natural Hazards
As a result of activities in grades 5-8, all students should develop understanding of
Internal and external processes of the earth system cause natural hazards, events that change or destroy human and wildlife habitats, damage property, and harm or kill humans. Natural hazards include earthquakes, landslides, wildfires, volcanic eruptions, floods, storms, and even possible impacts of asteroids.
Human activities also can induce hazards through resource acquisition, urban growth, land-use decisions, and waste disposal. Such activities can accelerate many natural changes.
Natural hazards can present personal and societal challenges because misidentifying the change or incorrectly estimating the rate and scale of change may result in either too little attention and significant human costs or too much cost for unneeded preventive measures.
Risks and Benefits
As a result of activities in grades 5-8, all students should develop understanding of
Risk analysis considers the type of hazard and estimates the number of people that might be exposed and the number likely to suffer consequences. The results are used to determine the options for reducing or eliminating risks.
Students should understand the risks associated with natural hazards (fires, floods, tornadoes, hurricanes, earthquakes, and volcanic eruptions), with chemical hazards (pollutants in air, water, soil, and food), with biological hazards (pollen, viruses, bacterial, and parasites), social hazards (occupational safety and transportation), and with personal hazards (smoking, dieting, and drinking).
Individuals can use a systematic approach to thinking critically about risks and benefits. Examples include applying probability estimates to risks and comparing them to estimated personal and social benefits.
Important personal and social decisions are made based on perceptions of benefits and risks.
Science and Technology in Society
As a result of activities in grades 5-8, all students should develop understanding of
Science influences society through its knowledge and world view. Scientific knowledge and the procedures used by scientists influence the way many individuals in society think about themselves, others, and the environment. The effect of science on society is neither entirely beneficial nor entirely detrimental.
Technology influences society through its products and processes. Technology influences the quality of life and the ways people act and interact. Technological changes are often accompanied by social, political, and economic changes that can be beneficial or detrimental to individuals and to society. Social needs, attitudes, and values influence the direction of technological development.
Science cannot answer all questions and technology cannot solve all human problems or meet all human needs. Students should understand the difference between scientific and other questions. They should appreciate what science and technology can reasonably contribute to society and what they cannot do. For example, new technologies often will decrease some risks and increase others.
Read the entire National Science Education Standards online for free or register to download the free PDF. The content standards are found in Chapter 6.
Author and Copyright
Janet Kahkonen Keppler was a consultant to the Middle School Portal project.
Please email any comments to msp@msteacher.org.
Connect with colleagues at our social network for middle school math and science teachers at http://msteacher2.org.
Copyright August 2006 - The Ohio State University. Last updated August 24, 2010. This material is based upon work supported by the National Science Foundation under Grant No. 0424671 and since September 1, 2009 Grant No. 0840824. Any opinions, findings, and conclusions or recommendations expressed in this material are those of the author(s) and do not necessarily reflect the views of the National Science Foundation.