MiddleSchoolPortal/Prototype Development: Try, Try Again
From NSDLWiki
<keywords content="middle school science observe experience engineers product model build test design redesign ITEA standards activities inquiry lessons" />
<metadescription content="This free, standards-based, online publication, developed for middle school science teachers, explores technology and design through the topic of prototype development by linking to and describing inquiry-based lessons and activities." />
Prototype Development: Try, Try Again - Introduction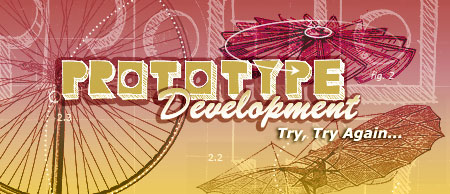 How do engineers move from imagination to reality with a new product? It's a long process with many complex steps. Eventually engineers end up with models. Product design models make for flashy presentations. But the ability to create a tangible working model—a prototype—from the design is what allows the proper evaluation of a product. Engineers use prototypes to generate data that help perfect the final product. Usually it takes more than one try to get it right. This step of the product design process is essential to preproduction.
Students can develop an understanding of the role of prototypes while they do just what engineers do: Brainstorm, sketch early design ideas, think about materials to use, build a design, test it, and build it again.
Hone in on just the prototype development step of the design process with these online resources for students: lessons and activities, student project steps related to prototyping, and background information. All of these resources will help you meet the ITEA standards as you encourage your students to test, retest, test, retest, test…until they get it right!
Background Information
Where to start and how to proceed? The NSDL Strand Map Service shows a sequence of learning goals from grades K-12 and provides access to related resources. These maps illustrate connections between concepts and across grade levels. An image of the middle grades (6-8) only part of the Manufacturing Map appears below. The Manufacturing Map is one of seven maps under the heading The Designed World Clicking on a concept within the maps reveals NSDL resources relevant to the concept, as well as information about related AAAS Project 2061 Benchmarks and National Science Education Standards. Move the pink box in the lower right hand corner of the page to see the grades 6-8 learning goals.
Peek into real-world product development to see how industry professionals work with prototypes. One site offers a video clip (and transcript) that will help students see the role of this stage of the design process.
Another avenue for learning about prototype development is the exploration of familiar inventions of the twentieth century. Ask students what they know about how these products were created. In the example below, students can see early models of the typewriter with interesting photos and helpful information. Finally, the design process worksheet can be a valuable tool to see where prototyping fits into the entire product development process.
The mold maker: a day in the life Have your students watch this preview to a six-minute video to observe how an actual mold maker produces a metal injection mold for the plastics industry. The mold maker uses computer-aided design (CAD) software to design a pattern of the mold based on the customer's prototype. He then cuts a wax mold, perfects the design, and cuts the mold from metal. This is a good example of part of the process of prototype development and an interesting glimpse into one profession. A transcript with still photos is available at http://www.careers.iptv.org/Enhanced/1136/ec_dayinthelife_trans.cfm.
The first typewriter Your students have probably been familiar with computers since they were quite young. Ask them if they can even imagine what their lives would be like without the keyboard. Some of them may not ever have seen a typewriter! This history of the typewriter's evolution begins in 1868 with gunmakers E. Remington & Sons, whose invention revolutionized office work. Students can see pictures of the early prototypes and models and talk about how typewriters have been largely replaced by computers.
SMARTR: Virtual Learning Experiences for Students
Visit our student site SMARTR to find related science-focused virtual learning experiences for your students! The SMARTR learning experiences were designed both for and by middle school aged students. Students from around the country participated in every stage of SMARTR's development and each of the learning experiences includes multimedia content including videos, simulations, games and virtual activities.
Careers
The FunWorks Visit the FunWorks STEM career website to learn more about a variety of science-related careers (click on the Science link at the bottom of the home page).
Latest Science News from the New York Times
News about Engineering and Engineers, including commentary and archival articles published in The New York Times.
News about U.S. Patent Office, including commentary and archival articles published in The New York Times.
ITEA Standards
Standards for Technological Literacy: Content for the Study of Technology (STL) was developed by the International Technology Education Association's Technology for All Americans Project in 2000. STL articulates the necessary content to be taught in K–12 laboratory-classrooms to empower all students to develop technological literacy. Technological literacy is the ability to use, manage, understand, and assess technology. The standards were constructed around a cognitive base and a "learning by doing" activity base, and they also include assessment checkpoints at specific grade levels (K–2, 3–5, 6–8, and 9–12).
For the benefit of curriculum planning and lesson development, the resources and information offered here are aligned with the following ITEA Standards for Technological Literacy:
Standard 8: Students will develop an understanding of the attributes of design E. Design is a creative planning process that leads to useful products. F. There is no perfect design and systems. G. Requirements for a design are made up of criteria and constraints.
Standard 9: Students will develop an understanding of engineering design. F. Design involves a set of steps, which can be performed in different sequences and repeated as needed. G. Brainstorming is a group problem-solving design process in which each person in the group presents his or her ideas in an open forum. H. Modeling, testing, evaluating, and modifying are used to transform ideas into practical solutions.
Standard 10: Students will develop an understanding of the role of troubleshooting, research and development, invention and innovation, and experimentation in problem solving. G. Invention is a process of turning ideas and imagination into devices and systems. Innovation is the process of modifying an existing product or system to improve it. H. Some technological problems are best solved through experimentation.
Standard 11: Students will develop abilities to apply the design process. H. Apply a design process to solve problems in and beyond the laboratory-classroom. I. Specify criteria and constraints for the design J. Make two-dimensional and three-dimensional representations of the designed solution. K. Test and evaluate the design in relation to the pre- established requirements, such as criteria and constraints, and refine as needed. L. Make a product or system and document the solution
Standard 12: Students will develop abilities to use and maintain technological products and systems. I. Use tools, materials, and machines safely to diagnose, adjust, and repair systems.
Standard 13: Students will develop abilities to assess the impact of products and systems. F. Design and use instruments to gather data. G. Use data collected to analyze and interpret trends in order to identify the positive or negative effects of a technology. H. Identify trends and monitor potential consequences of technological development. I. Interpret and evaluate the accuracy of the information obtained and determine if it is useful.
Author and Copyright
Quentin Briggs, formerly of Eisenhower National Clearinghouse for Science and Mathematics Education, Instructional Resources. He had nine years of technology teaching experience at the middle school level and four years experience as an industry professional in the area of training and development.
Please email any comments to msp@msteacher.org.
Connect with colleagues at our social network for middle school math and science teachers at http://msteacher2.org.
Copyright November 2004 - The Ohio State University. Last updated September 19, 2010. This material is based upon work supported by the National Science Foundation under Grant No. 0424671 and since September 1, 2009 Grant No. 0840824. Any opinions, findings, and conclusions or recommendations expressed in this material are those of the author(s) and do not necessarily reflect the views of the National Science Foundation.